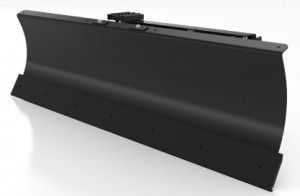 Caterpillar Angle Blades are useful work tools in a wide range of applications for moving dirt, gravel, livestock waste and snow. They are also useful for finish grade work in construction and landscaping.
Bolt-on, curved mouldboard with standard reversible/ replaceable bolt-on. Hardened DH-2 steel cutting edge delivers long life and high performance.

Blades are interchangeable due to a common back interface structure.

Two-way blade allows blade to be operated with the blade locked for aggressive dozing or with spring-loaded trip engaged for pushing snow of livestock waste.

Spherical rod eye cylinder adds another degree of freedom to the jointed section for better impact protection.

Optional snow kit with heavy – duty guard assembley, two edge markers and mounting hardware. Optional bolt-on non metallic edges reduce surface scratches on marring of concrete and asphalt surfaces.

Four preloaded springs provide appropriate force with the spring – loaded trip engaged. Springs can be removed individually to accommodate a lighter trip.
Caterpillar 1829mm(72in) Angle Blade
Overall Width – 1829mm

Working Width – 1685mm

Maximum Blade Angle –  30 degrees
FOR USE WITH THE FOLLOWING COMPACT EQUIPMENT
246C (XPS) Skid Steer Loader

256C (XPS) Skid Steer Loader

262C (XPS) Skid Steer Loader

272C (XPS) Skid Steer Loader

277C (XPS) Multi Terrain Loader

287C (XPS) Multi Terrain Loader

297C (XPS) Multi Terrain Loader

279C Compact Track Loader

289C Compact Track Loader

299C Compact Track Loader

247B Series 3 Multi Terrain Loader

216B Series 3 Skid Steer Loader

226B Series 3 Skid Steer Loader

236B Series 3 Skid Steer Loader

242B Series 3 Skid Steer Loader

257B Series 3 Multi Terrain Loader

259B Series 3 Compact Track Loader
Caterpillar 2134mm(84in) Angle Blade
Overall Width –  2134mm

Working Width – 1685mm

Maximum Blade Angle –  30 degrees
FOR USE WITH THE FOLLOWING COMPACT EQUIPMENT
246C (XPS) Skid Steer Loader

256C (XPS) Skid Steer Loader

262C (XPS) Skid Steer Loader

272C (XPS) Skid Steer Loader

277C (XPS) Multi Terrain Loader

287C (XPS) Multi Terrain Loader

297C (XPS) Multi Terrain Loader

279C Compact Track Loader

289C Compact Track Loader

299C Compact Track Loader

247B Series 3 Multi Terrain Loader

216B Series 3 Skid Steer Loader

226B Series 3 Skid Steer Loader

236B Series 3 Skid Steer Loader

242B Series 3 Skid Steer Loader

257B Series 3 Multi Terrain Loader

259B Series 3 Compact Track Loader