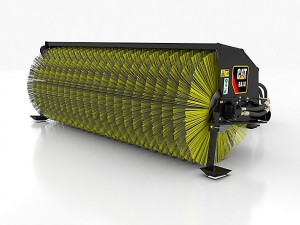 Hydraulic and Manual Angle Brooms for backhoes, intergrated  tool carriers and wheel loaders are ideal for clearing parking lots, industrial plants, millyards, airport runways, streets, driveways and lanes.
Caterpillar BA18[241-8235] Angle Broom
Sweeping Width Straight –  2134mm

Sweeping Width Angled – 1702mm

Sweeping Angle – 30 degrees

Unique Suspension – Unique suspension system eliminates the need for support wheels. The brush element maintains constant ground pressure through a range of vertical motion (+/-8") from the initial setting.
Variable Angle – Angles hydraulically or manually 30 degrees to either side; will also clean in straight position.
Long Life Bearings – Broom bearings are low- maintenance.
Parking Supports – Parking supports provide stable and secure parking of the unit.
Optional Dust Control – Water sprinkling system is available as an option for effective dust control.
Single Motor Broom – The BA22 broom is powered by one hydraulic motor.
Dual Motor Broom – The BA25 & BA30 brooms are powered by two hydraulic motors.
Manual Option – BA25 broom has manual angling option.
Diverter Valve – BA22 broom has an electrically operated diverter valve for 3rd valve hydraulic angling. Angles 30 degrees left and right.
FOR USE WITH THE FOLLOWING COMPACT EQUIPMENT
906H Compact Wheel Loader

907H Compact Wheel Loader

908H Compact Wheel Loader

246C (XPS) Skid Steer Loader

256C (XPS) Skid Steer Loader

262C (XPS) Skid Steer Loader

272C (XPS) Skid Steer Loader

277C (XPS) Multi Terrain Loader

287C (XPS) Multi Terrain Loader

297C (XPS) Multi Terrain Loader

279C Compact Track Loader

289C Compact Track Loader

299C Compact Track Loader

247B Series 3 Multi Terrain Loader

216B Series 3 Skid Steer Loader

226B Series 3 Skid Steer Loader

236B Series 3 Skid Steer Loader

242B Series 3 Skid Steer Loader

257B Series 3 Multi Terrain Loader

259B Series 3 Compact Track Loader