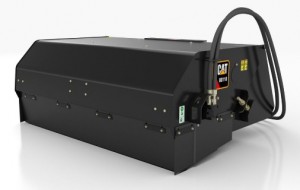 Utility brooms sweep and collect light debris on smooth surfaces in forward or reverse travel.
Reinforced high-strength steel and curved hood design increases durability and protection from the front hood impacts. Front- mounted torque tube adds stiffness.

Bi-directional bristle rotation allows for dust pan or over-the-brush sweeping of debris. Adjustable locking nut allows brush core to float, reducing bristle wear, or provides positive brush down-force for aggressive sweeping.

Positive brush down – force allows aggressive sweeping in cuts by rapidly dragging broom backwards and sweeping millings under the brush core and into the bucket.

Large hopper capacity allows greater productivity with longer sweeping cycles. Wide bucket  opening permits fast, efficient dumping.

Optional Attachments – Rubber boot on front and sides aids in containing debris and airborne contaminants during sweeping.
Caterpillar BU115 Utility Broom
Overall Width – 1810mm

Sweeping Width – 1510mm

Height – 793mm
FOR USE WITH THE FOLLOWING COMPACT EQUIPMENT
906H Compact Wheel Loader

907H Compact Wheel Loader

908H Compact Wheel Loader

246C (XPS) Skid Steer Loader

256C (XPS) Skid Steer Loader

262C (XPS) Skid Steer Loader

272C (XPS) Skid Steer Loader

277C (XPS) Multi Terrain Loader

287C (XPS) Multi Terrain Loader

297C (XPS) Multi Terrain Loader

279C Compact Track Loader

289C Compact Track Loader

299C Compact Track Loader

247B Series 3 Multi Terrain Loader

216B Series 3 Skid Steer Loader

226B Series 3 Skid Steer Loader

236B Series 3 Skid Steer Loader

242B Series 3 Skid Steer Loader

257B Series 3 Multi Terrain Loader

259B Series 3 Compact Track Loader
Caterpillar BU118 Utility Broom
Overall Width –  2115mm

Sweeping Width – 1865mm

Height – 793mm
FOR USE WITH THE FOLLOWING COMPACT EQUIPMENT
906H Compact Wheel Loader

907H Compact Wheel Loader

908H Compact Wheel Loader

246C (XPS) Skid Steer Loader

256C (XPS) Skid Steer Loader

262C (XPS) Skid Steer Loader

272C (XPS) Skid Steer Loader

277C (XPS) Multi Terrain Loader

287C (XPS) Multi Terrain Loader

297C (XPS) Multi Terrain Loader

279C Compact Track Loader

289C Compact Track Loader

299C Compact Track Loader

236B Series 3 Skid Steer Loader

259B Series 3 Compact Track Loader