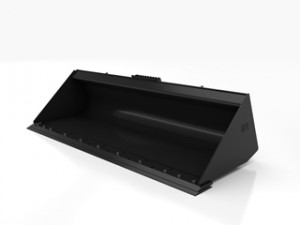 Caterpillar Dirt Buckets leverage many of the same features found in general purpose buckets, but with lower volume capacity. They are recommended for tight areas where a narrower, lower capacity bucket is required. Applications include digging and light duty excavation in construction or landscaping.
Dirt buckets have shorter back height profile, shorter floor length, and are lighter in weight than general purpose buckets.

Full length skid bars provide additional floor rigidity and wear resistance.

Hardened steel base and side cutting edges provide excellent penetration, durability and wear life.
Caterpillar Dirt Bucket 1372mm   
width 1372mm   

rated bucket capacity 0.3m3   
Caterpillar Dirt Bucket 1524mm   
width 1524mm   

rated bucket capacity 0.34m3
Caterpillar Dirt Bucket 1676mm   
width 1676mm   

rated bucket capacity 0.37m3
Caterpillar Dirt Bucket 1829mm   
width 1829mm   

rated bucket capacity 0.47m3   
Caterpillar Dirt Bucket 1981mm   
width 1981mm   

rated bucket capacity 0.44m3