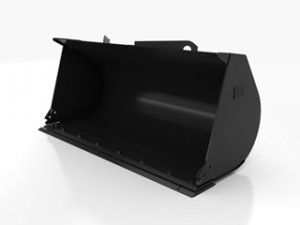 Caterpillar General Purpose Buckets are designed for digging, loading, carrying, leveling, grading and dumping in a variety of applications and materials. These all purpose buckets are ideal for construction, landscaping, industrial and more aggressive demolition applications.
Low back height profile and long floor length, combined with formed back wrapper and optimum wrapper angle, result in excellent visibility to the front cutting edge and front corners, and superior loading and dumping.

Run the entire width of the bucket to resist twisting and impact forces, providing strength and durability.

Provide additional bucket floor rigidity and protection.

Front base edge and side cutting edges are hardened for excellent penetration, durability, and wear life.
Caterpillar General Purpose Bucket 1524mm   
width 1524mm   

rated bucket capacity 0.36m3   
Caterpillar General Purpose Bucket 1676mm   
width 1676mm   

rated bucket capacity 0.4m3  
Caterpillar General Purpose Bucket 1829mm   
width 1829mm   

rated bucket capacity 0.44m3   
Caterpillar General Purpose Bucket 1981mm   
width 1981mm   

rated bucket capacity 0.48m3   
Caterpillar General Purpose Bucket 2134mm   
width 2134mm   

rated bucket capacity 0.63m3