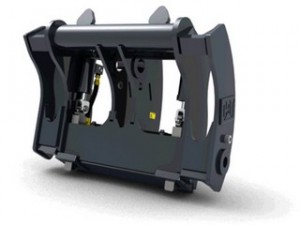 The heart of Fusion is a unique design that pulls the load inward, toward the machine. This new coupling system not only draws the load closer to the machine, but also utilizes a patented wedging action that tightly locks the coupler to the work tool … eliminating any rattle that can lead to wear. Our customers asked for the best: a coupler without compromise. We're proud to deliver: Fusion.
This new, patented interface provides coupler flexibility with performance virtually identical to pin-on. Imagine lifting a hundred-pound box with your arms fully extended. Now, imagine lifting that same load close to your body. That's the genius of Fusion: designed to integrate the work tool and the machine by pulling the coupler and tool closer to the wheel loader. As a result, the center of gravity is moved inward, towards the machine. This translates to increased lifting ability when compared to machines equipped with competing coupler systems. Fusion will give more flexibility and performance to machines as small as the 924 and as large as the 972, including the IT38 and IT62 loaders.

The advanced wedging mechanism of the Fusion™ Coupler creates a tight, rattle-free fit. This new lock up system eliminates play and wear – resulting in a long service life. Wedges pull the attachment tight to the machine in two directions – in and down. Constant hydraulic pressure on the coupler wedges compensate for wear, assuring a tight fit throughout the life of the coupler. Tight fit gives better tool control and increased productivity. Plus, coupler durability is substantially increased over traditional couplers.

A new, open coupler frame design opens sight lines from the operator's seat, making it easier than ever before to engage and disengage attachments with certainty. Offset tines and other design changes to Fusion Pallet Forks, working in conjunction with the Fusion Coupler, increase visibility substantially at ground level and truck bed height when compared to traditional coupler and fork combinations

With the Fusion Coupler system, Caterpillar customers get one common interface. This unique, single interface eliminates the need for many different couplers across the entire range of Cat Small and Medium Wheel Loaders. This expanded machine compatibility not only allows one machine to pick up a range of work tools, but also for one work tool to be used by a host of different machines. Realize the flexibility and opportunity afforded your rental operation, or the improvements to machine and work tool management on your customers' job sites.
Caterpillar Fusion Coupler 966-972 Fusion QC