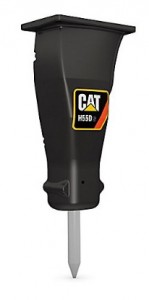 Cat Hydraulic Hammers for Cat excavators, mini hydraulic excavators, backhoes and skid steer loaders are matched to Cat machines for optimum performance and durability in a wide variety of demolition and construction applications.
Lower owning and operating cost and improved serviceability/reliability. Cat Hammers are perfectly matched to Cat carriers for maximum performance, productivity, reliability and durability.

The hammer has a high frequency and high productivity to get the job done fast. Greater productivity in concrete and asphalt applications.

Reduces components and eliminates tie rods and nuts.

Combines three bushings into one (upper, lower and thrust ring). Slip fit and field replaceable.

Significantly reduces shock loads transferred to the machine during hammer operation, to improve operator comfort and extend life of the critical machine components.

For operation in residential and noise-sensitive applications where compliance with regulations must be met.

Service and parts are available through the worldwide Cat Parts System.
Caterpillar Hammer H35D S [254-7636]   
min carrier weight 1100kg   

max carrier weight 2400kg   

weight 103kg
Caterpillar Hammer H35D S [H35D S]   
min carrier weight 1100kg   

max carrier weight 2400kg   

weight 103kg
Caterpillar Hammer H45D S [297-9362]   
min carrier weight 1500kg   

max carrier weight 3200kg   

weight 145kg
Caterpillar Hammer H45D S [H45D S]   
min carrier weight 1500kg   

max carrier weight 3200kg   

weight 145kg
Caterpillar Hammer H55D S [273-0198]   
min carrier weight 2500kg   

max carrier weight 4500kg   

weight 199kg
Caterpillar Hammer H55D S [H55D S]   
min carrier weight 2500kg   

max carrier weight 4500kg   

weight 199kg
Caterpillar Hammer H65D S [275-5863]  
min carrier weight  3000kg   

max carrier weight 6500kg   

weight 271kg
Caterpillar Hammer H65D S [H65D S]   
min carrier weight 3000kg   

max carrier weight 6500kg   

weight 271kg