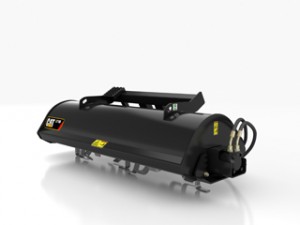 Caterpillar Landscape Tillers are designed for breaking up and pulverizing soil, mixing compost or other materials into existing soil, and stabilizing and levelling existing terrain in landscape finish applications. They are ideal for residential, commercial, agricultural, building construction, lawn care and golf course maintenance applications.
Single motor direct drive system is matched to the machine's auxiliary hydraulic system for maximum performance and versatility.

Tungsten carbide double-edge bolt-on tines are hardened for maximum strength, durability and wear life in the toughest soil conditions. The bolt-on design provides quick change versatility and extended work tool life.

Unique spiral tine arrangement provides 10% greater cutting performance over tillers with standard tine placements.

Two full width torque tubes provide rigid structural enforcement of tiller housing. Front torque tube design minimizes hood damage caused from larger rocks.

Arm level indicator provides operator a visual set-up and operating reference with top tiller attachment arms designed parallel to skid shoe.

Adjustable skid shoes with three-position tiller depth adjustment allows for tilling depth to be quickly adjusted to a working depth range of 25-152 mm (1-6 in) without skid shoe removal.

Compact work tool envelope allows for tilling next to sidewalks and structures.

Proven Caterpillar XT-3 ES hose, couplings and o-ring face seals provide superior leak free performance and reliability in the toughest conditions. All hoses are wrapped with nylon woven Cordura sleeving for added operator protection. Hydraulic quick disconnects enable fast tool changes.
Caterpillar Landscape tiller LT13B   
working width 1321mm   

overall width 1788mm   

unit weight 340kg
Caterpillar Landscape Tiller LT18B   
working width 1847mm   

overall width 2271mm   

unit weight 420kg