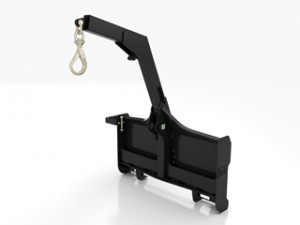 The Caterpillar Material Handling Arm for compact products is a useful tool for virtually all types of applications, including industrial, construction and agricultural, to pick, carry and load a variety of materials and equipment. The heavy duty design is also well suited for landscaping to load, carry and set trees and large shrubs.
The heavy-duty Caterpillar Material Handling Arm is designed for superior durability and long structural life.

Two lift points provide a maximum reach of 7 ft. (2134 mm) at the end point, and 5.4 ft. (1646 mm) at the mid point for heavier loads.

The single, multiangled boom offers excellent visibility to the load.

A heavy-duty, locking clasp that swivels full 360 degrees can be used at either lift point.

Two compartments provide convenient storage of chains and hooks.

The convenient, bolt-on, heavy-duty, deep skid-resistant step located at the right side of the main structure optimizes operator entry and exit from the machine.
Caterpillar Material Handling Arm    
width w/side step 1309mm   

height 1473mm