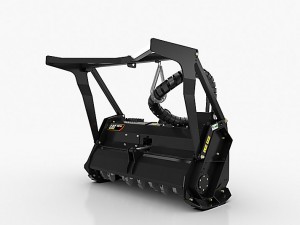 Cat Mulchers are designed for high-performance cutting, and mulching vegetation and undergrowth from typical forested terrain. The hydraulic mulcher reduces saplings, shrubs and trees into mulched material, making it ideal for environmental maintenance, such as creating fire lanes. Other applications include: reclaiming untilled land, removing foliage from building construction sites, and shredding pruned material and organic waste for biomass production.
Axial piston hydraulic motor provides smooth, efficient performance.

Adjustable push frame is standard equipment and provides the ability to position trees to allow for optimum cutting and efficiency. In forest operation it also provides operator cab protection.

Hydraulically operated front hood allows trees to be cut when opened and allows dense vegetation to be mulched.

 V-belt drive protects the motor against blockages.

Rear chain guard protection reduces spread of material.

Rigid, robust tempered steel construction provides fully guarded protection in tough applications.

Provide superior, leak-free performance and reliability. All hoses are wrapped with nylon woven cordura sleeving for added operator protection. Hydraulic quick disconnects enable fast tool changes.

Rugged, opposing edge design holds the work tool securely and allows the operator to quickly change from one high performance Cat Work tool to another.
Caterpillar mulcher HM312   
overall width 1640mm   

working width 1210mm   

length 1470mm
Caterpillar Mulcher HM315   
overall width 1830mm   

working width 1450mm   

length 1470mm