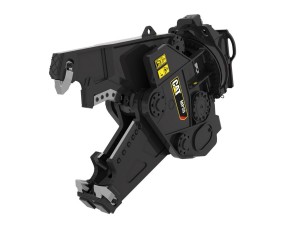 Concrete Cutter jaws are the perfect choice where precise demolition/cutting of concrete structures is required.
The Multi-Processor features a large-diameter, cross-mounted cylinder providing exceptional cutting and crushing force and an excellent power-to-weight ratio. Any MP unit can accept multiple jaw sets for maximum on-the-job flexibility.

Equipped with replaceable concrete crusher teeth and reversible steel cutting knives.

The Multi-Processor features hydraulic 360 degree rotation; the unit can attack material to be demolished from virtually any angle, minimizing the need to move the base carrier.

The Multi-Processor with Concrete Cutter jaws puts maximum demolition force precisely where it's needed, for fast efficient demolition work.

Integral steel-cutting knives slice through rebar and pipe, eliminating the need for torching.
Caterpillar Multi Processor with Concrete Cutting jaws MP20 [MP20 – COSA]   
weight (housing, jaw and bracket) 2600kg   

weight (jaw only) 930kg   

arm torque – fully open 844kN-m