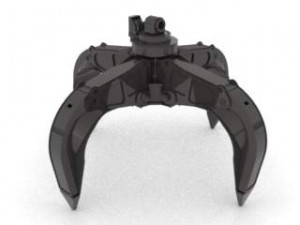 Robust design, lifting capacity and efficiency put Caterpillar Orange Peel Grapples on top of the pile in scrap handling and recycling. The grapple's four hydraulic tines penetrate deep into scrap piles and grab tight to move the maximum possible material in every pass. This grapple provides superior productivity and efficiency for material handling operators.
Continuous, bi-directional hydraulic rotation positions the grapple quickly and precisely. The four tines penetrate deeply and grab securely, for maximum loads with every pass.

Cat Orange Peel Grapples feature protected hydraulics. The body and tines of the grapple are constructed from high-strength, wear-resistant steel. All cylinders and hoses are housed within the shear body, isolating them from common sources of damage. Mechanical stop and hydraulic cushioning protect the cylinders and hydraulic system from dangerous pressure spikes.

Access panels allow easy access to all service points. Tine tips are easy to replace, protecting tines from wear.
Caterpillar Orange Peel Grapples GSH15B-H-5-400-C    
capacity 0.4m3   

weight 1530kg   

max lift capacity 4000kg
Caterpillar Orange Peel Grapples GSH15B-H-5-400-S 
capacity 0.4m3   

weight 1445kg   

max lift capacity 4000kg
Caterpillar Orange Peel Grapples GSH15B-H-5-500-C    
capacity 0.5m3   

weight 1540kg   

max lift capacity 4000kg
Caterpillar Orange Peel Grapples GSH15B-H-5-500-S  
capacity 0.5m3   

weight 1445kg   

max lift capacity 4000kg
Caterpillar Orange Peel Grapples GSH15B-H-4-600-N    
capacity 0.6m3   

weight 1215kg   

max lift capacity 4000kg
Caterpillar Orange Peel Grapples GSH15B-H-5-600-C   
capacity 0.6m3   

weight 1575kg   

max lift capacity 4000kg
Caterpillar Orange Peel Grapples GSH15B-H-5-600-O  
capacity 0.6m3   

weight 1395kg   

max lift capacity 4000kg
Caterpillar Orange Peel Grapples GSH15B-H-5-600-S  
capacity 0.6m3   

weight 1475kg   

max lift capacity 4000kg
Caterpillar Orange Peel Grapples GSH20B-H-4-600-N
capacity 0.6m3   

weight 1575kg   

max lift capacity 8000kg
Caterpillar Orange Peel Grapples GSH20B-H-5-600-N 
capacity 0.6m3   

weight 1870kg   

max lift capacity 8000kg
Caterpillar Orange Peel Grapples GSH20B-H-5-600-S    
capacity 0.6m3   

weight 1905kg   

max lift capacity 8000kg
Caterpillar Orange Peel Grapples GSH15B-H-4-800-N   
capacity 0.8m3   

weight 1260kg   

max lift capacity 4000kg
Caterpillar Orange Peel Grapples GSH15B-H-5-800-N    
capacity 0.8m3   

weight 1515kg   

max lift capacity 8000kg
Caterpillar Orange Peel Grapples GSH20B-H-4-800-N   
capacity 0.8m3   

weight 1615kg   

max lift capacity 8000kg
Caterpillar Orange Peel Grapples GSH22B
capacity 1.1m3   

weight 2390kg   

max lift capacity 12000kg
Caterpillar Orange Peel Grapples GSH22B    
capacity 1.5m3   

weight 2410kg   

max lift capacity 12000kg
Caterpillar Orange Peel Grapples GSH22B-H-4-1000-N    
capacity 1000m3   

weight 2410kg   

max lift weight capacity 12000kg
Caterpillar Orange Peel Grapples GSH22B-H-4-1500-N
capacity 1500m3   

weight 2410kg   

max lift capacity 12000kg