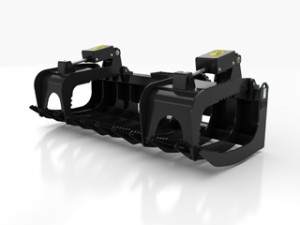 Cat Industrial Grapple Rakes are ideal for storm debris clean-up and land clearing applications due to their open bottom design which allows unwanted material to filter through the bottom of the work tool.
The robust grapple assemblies incorporate thick, high strength steel to resist bending and increase durability.

Durable steel rake tines and dual full width torque tubes with an additional front torque tube for tine reinforcement ensure long life.

Excellent clamping force and independently controlled grapple assemblies allow for easy grasping of irregularly shaped objects.

Wide vertical jaw opening allows for handling of large, bulky material.

Cat medium pressure hose, couplings and o-ring face seals provide superior leak free performance and reliability. All hoses are wrapped with nylon woven Cordura sleeving for added operator protection.
Caterpillar Industrial Grapple Rake 1829mm   
width 1829mm   

height 838mm   

weight 467kg
Caterpillar Industrial Grapple Rake 2134mm   
width 2134mm   

height 838mm   

weight 515kg