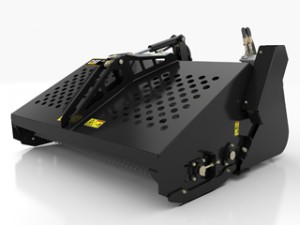 Cat Landscape Rakes are ideal for residential, commercial, agricultural, building construction, lawn care and golf course maintenance applications.  They use the scarifying action of the hardened teeth to pulverize, aerate, level and condition the soil, while collecting and depositing rock and debris in the integrated hopper bucket for quick removal. Landscape rakes are designed to operate with the loader travelling in reverse, leaving the soil finely groomed with minimal tire compaction.
Chain reduction drive system features #80H roller chain for strength and durability, a variable speed unidirectional geroter motor for maximum performance and versatility and a cartridge relief valve for system protection when an object becomes lodged in the raking system.

gh strength carbon steel teeth are hardened for maximum strength, durability and wear life in the toughest soil conditions. Teeth are easily weld replaceable or rebuildable to extend rake life.

Quick dumping capability is accomplished with a poppet check valve that stops flow to the hydraulic motor and directs flow to the rake head cylinder. Once the hopper bucket is full, simply reverse flow to actuate the rake head cylinder and dump the bucket.

Durable #2060H conveyor chain provides strength, durability and long life in a variety of soil conditions.

Bolt-on conveyor tubes for easy replacement and serviceability

Caterpillar XT-3 ES hose, couplings and o-ring face seals provide superior leak free performance and reliability. All hoses are wrapped with nylon woven Cordura sleeving for added operator protection. Hydraulic quick disconnects enable fast tool changes.
Caterpillar Landscape Rake LR15B   
working width 1576mm   

bucket capacity – struck 0.3m3   
Caterpillar Landscape Rake LR18B   
working width 1883mm   

bucket capacity – struck 0.34m3