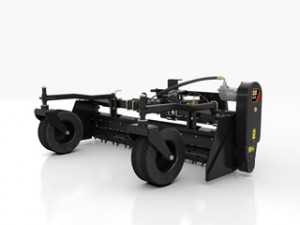 Cat Power Box Rakes are ideal for clearing and preparing soil in general construction trench restoration, golf course construction and athletic field maintenance. They offer the versatility to de-thatch, remove old lawns and weeds, grade, level, rake, remove debris and prepare seedbeds with one work tool. Its angling ability allows the operator to windrow collected debris for easy pickup and removal. The consistent milling action creates an ideal seedbed for excellent germination results, laying the groundwork for a perfect lawn. Wet, dry, weedy, hard and rocky soil can be dried, flattened, pulverized and conditioned for seed in one step.
A heavy-duty frame pivot plate and attachment plate are featured for reliable operation in rugged terrain and abusive soil conditions.

Pure carbide, blunt shaped teeth create a dimpled subsurface to ensure the best possible seedbed sub-base fracture pattern.

Two-position winged endplates allow close raking to sidewalks for foundations. They can remain parallel, even during angling, for smoother plowing.

Convenient, heavy-duty, deep skid-resistant step and a generous cab allow for easy operator entry and exit.

Dual independently adjustable gauge wheels allow for skim passes for over-seeding or adjust to cut drainage grades.
Caterpillar Powerbox Rake PR172   
roller width 1829mm  

overall width 2057mm   

overall length 1626mm
Caterpillar Powerbox Rake PR184   
roller width 2134mm   

overall width 2362mm   

overall length 1626mm
Caterpillar Powerbox Rake PR190   
roller width 2286mm   

overall width 2515mm   

overall length 1626mm