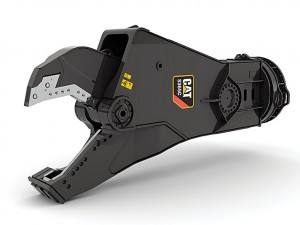 Cat B-Series shears are the fourth generation of Cat hydraulic mobile scrap shears, featuring 360° rotation and a high force-to-weight ratio. These shears are versatile tools widely used for demolishing steel structures, and preparing bulk scrap (such as cars, farm machinery and railroad cars) for further processing.
Caterpillar offers a range of six shear models designed for Cat Excavators and wheeled Excavators sized from 307 to 385. The smallest shear — the S305 — can be mounted to Skid Steer Loaders or mini-Excavators. Cat Shears can be boom- or stick-mounted, with our without a quick coupler.

Cat Shears are designed for Cat machines — taking full advantage of the hydraulic flows and pressures to enhance productivity without compromising safety or causing premature wear of the shear and carrier.

The unique straight lower jaw design effectively enhances the cutting force by facilitating the spreading out of steel along the length of the jaw, instead of concentrating it in the apex where compressed steel mass can often exceed cutting capacity of the shear.

The four main, side and front knives, or cutters, are fully reversible with four effective cutting edges. Bushings around the bolts of the two front, side, and tip cutters prevent bolts from loosening. Keeping bolts tight avoids potential bolt breakage, lost or damaged bolts, damage to knives and knife pocket, and alleviates time consuming routine tightening. A piercing tip with excellent wear characteristics such as tensile strength and hardness can be repeatedly hard-faced for long life and effective piercing capability at low operating cost.

Recognize greater productivity with a rotating shear because of the speed and ease with which shear jaws can be placed into optimum cutting position. All Cat Shears are equipped with a rugged 360° rotation system specifically designed to withstand the forces excavators are capable of applying to the rotator area. An additional advantage of 360° rotation is reduced wear of tracks and undercarriage, and surface material on the job site.Rotation reduces the need to move the excavator and position the shear jaw into the best cutting position.

Cat Shears feature an adjustable hub to help maintain an optimum cutting position between the upper and lower jaw, compensating for knife wear.

Large access panels on the top, bottom and sides of the shear housing make it easier to service inside components.

Design of the shear housing provides full protection of the cylinder throughout the complete cutting cycle.

Only Cat offers an integrated machine-hydraulics-shear system supported by Caterpillar from front to end throughout the life of the system.

Cat Mobile Scrap & Demolition Shears are designed for Excavators sized from 303.5 through 385, wheeled Excavators sized from M315 through M322, and Skid Steer Loaders sized from 236 through 287.
Caterpillar Scrap & Demolition Shears S320B [S320B]   
throat force 3706 kN   

apex force 1583 kN   

tip force 892 kN
Caterpillar Scrap & Demolition Shears S325B [S325B]   
throat force 5562 kN   

apex force 2221 kN    

tip force 1274 kN
Caterpillar Scrap & Demolition ShearsS340B [S340B]   
throat force 6818 kN   

apex force 2751 kN   

tip force 1558 kN
Caterpillar Scrap & Demolition ShearsS365C [S365C]   
throat force 10342 kN   

apex force 3754 kN   

tip force 2008 kN
Caterpillar Scrap & Demolition ShearsS385C [S385C]   
throat force 12509 kN   

apex force 4696 kN   

tip force 2481 kN