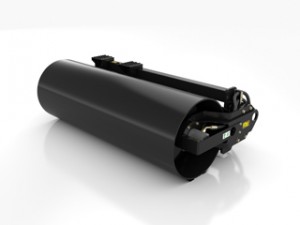 Caterpillar Vibratory Compactors for skid steer loaders and multi terrain loaders are used for compacting soil, sand or gravel prior to pouring concrete or laying asphalt surfaces. They are also ideal for asphalt patchwork. Their capabilities and lower investment and maintenance costs make them popular with pavers, general contractors and utility contractors in residential, commercial or industrial applications.

Caterpillar exclusive vibratory pod design delivers desired balance between frequency and amplitude to provide a superior mat finish. Pod-style weight housings are factory sealed for longer bearing life and easy serviceability.

Higher compaction forces provide twice the compaction force of the original design requiring fewer passes for greater productivity.

Replaceable rubber mounts isolate vibration and enhance vibratory capabilities.

Durable high strength steel drums are roll formed and finish welded for a smoother surface and longer life.

A spring-loaded dual direction non-metallic scraper bar maintains constant pressure on the drum to prevent material build up. Non-metallic design minimizes noise level.

Pivoting interface allows the drum to oscillate +/- 15 degrees and follow the contour of the ground.

Caterpillar XT-3 ES and medium pressure hose, couplings and o-ring face seals provide superior leak free performance and reliability. All hoses are wrapped with nylon woven Cordura sleeving for added operator protection. Hydraulic quick disconnects enable fast tool changes.
Caterpillar Vibratory Compactor CV16B   
drum width 1676mm  (66in) 

drum frequency @ 57L/MIN (15GPM) 2946 vibrations/minute   

dynamic force 5399kg
Caterpillar Vibratory Compactor CV18B  
drum width 1854mm (73in) 

drum frequency @ 57L/ MIN (15GPM) 2946 vibrations/minute   

dynamic force 5399kg