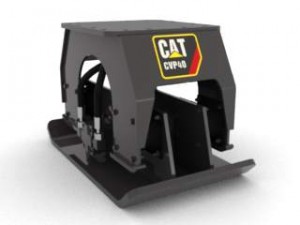 Caterpillar Vibratory Plate Compactors provide superior compaction force in a reliable, low-maintenance package. These units produce high-power impulses at a rate of 2200 impacts per minute. The forces generated by this vibration drive soil particles close together for solid, stable compactions. Whether in a trench or on a slope, driving sheeting or posts, Cat Compactors are the superior choice for any jobsite's compaction tasks.
Cat Compactors are performance-matched to Cat machines, and integrate perfectly with the Cat Hammer line – brackets and hydraulic kits are fully interchangeable between hammers and compactors. Three sizes of compactor are available to match with Cat Backhoe Loaders or Hydraulic Excavators. Only Caterpillar can offer this total system solution of compactor, hammer, kit and machine; all fully compatible, and every single component backed by Caterpillar quality.

Cat quality components and design features ensure reliability in the most adverse working conditions. Cat Shaft bearings are lubricated with a continual oil bath. Bearing reliability is second to none; and maintenance requirements are minimal. And, of course, they're backed up by the legendary Caterpillar service system; no other compactor can offer this level of total system support

Every Cat Compactor includes a pressure/flow control valve as standard. The valve protects the compactor from damaging pressures and flows, enhancing reliability. Also, one compactor can be used on multiple machines without requiring additional hydraulic adjustment.

All hydraulic hoses are protected inside the frame of the Compactor, avoiding most sources of hydraulic hose damage. Hydraulic supply lines are routed out the back of the unit to keep hoses short and out of the way.

An optional bolt-on backfill blade allows the Compactor to easily push loose material into place, for very fast work when backfilling trenches.
Caterpillar Vibratory Compactor CVP16[222-3780]   
impulse force 16.2kN   

cycles/min 2200   

base plate width 305mm
Caterpillar Vibratory Compactor CVP40[205-5900]   
impulse force 40kN   

cycles/min 2200   

base plates width 584mm
Caterpillar Vibratory Compactor CVP75[205-5901]   
impulse force 74kN   

cycles/min 2200   

base plates width 737mm
Caterpillar Vibratory Compactor CVP110[205-5902]   
impulse force 110kN   

cycles/min 2200   

base plates width 864mm