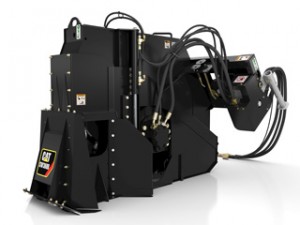 Caterpillar Wheel Saws are designed for high performance trench cutting on a variety of hard or compact surfaces such as asphalt, reinforced concrete, and rocky or frozen ground.
The SW45 with a maximum cutting depth of 450 mm (18 in) and the SW60 with a maximum cutting depth of 600 mm (24 in).

The SW45 is available in three wheel widths: 80 mm (3 in), 160 mm (6 in), and 200 mm (8 in). All models come with standard deflective plates. The larger with models feature a standard hydraulic trench-cleaning device. </li><li> The SW60 is available in two wheel widths: 160 mm (6 in) and 200 mm (8 in). Both models come standard with hydraulic trench-cleaning device and wide deflector plates.</li></ul>

The direct drive systems features hydraulic piston pump motor to ensure maximum cutting rate and wheel torque for optimal production performance and efficiency.

The hydraulic side shift and depth control is standard on all models and is controlled from the operator's compartment. Hydraulic side shift allows wheel positioning from center to 650 mm (25.5 in) right of center. This allows for cutting close to curbs, walls, and other obstructions and minimizes need to reposition the machine.

The trench cleaning device is hydraulically operated from the operator's compartment. The blade can be controlled up and down to remove spoil and ensure a clean trench.

Deflector plates remove spoil from the machine's path, for smooth operation. Spoil can be discharged left, right, or on both sides of the wheel saw with installation of included banking plates.

Concrete bits are standard on all models. Optional all purpose conical bits are available for all Cat Wheel Saws for tarmac and asphalt applications.
Caterpillar Wheel Saw SW45   
maximum depth of cut 450mm   

required hydraulic flow range 90-160L/min (24-42gpm)   

maximum wheel width 160mm
Caterpillar Wheel Saw SW45   
maximum depth of cut 450mm   

required hydraulic flow range 90-160L/min (24-42gpm)   

maximum wheel width 80mm
Caterpillar Wheel Saw SW45   
maximum depth of cut 450mm   

required hydraulic flow range 90-160L/min (24-42gpm)   

maximum wheel width 200mm
Caterpillar Wheel Saw SW60   
maximum depth of cut 600mm   

required hydraulic flow range 100-160 L/min (24-42gpm)   

maximum wheel width 200mm
Caterpillar Wheel Saw SW60   
maximum depth of cut 600mm   

required hydraulic flow range 100-160 L/min (24-42gpm)   

maximum wheel width 160mm